What are the high yield topics for imat biology portion?
Hey Saqib,
This chart is as of 2021, and is still relevant I believe.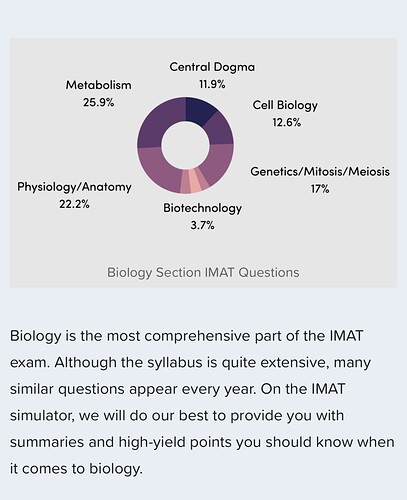 You should be able to find similar statistics for the other sections of the exam, with the same charts, here.
I hope this helps!
@AhdOmer Hey!
The number of questions won't be changed this year?
We don't know yet, they reduced the amount of GK questions on the test di medicine (the Italian exam), but we don't have a syllabus for the IMAT yet, should be out very soon. @dorsa_vaezi
Hey! I've got the statistics about the number of questions from each IMAT Biology topic from 2011 to 2021. Hope this helps.

Awesome! Definitely worth a pin, good job! @hassanzrizvi mind creating a thread from this? I'll pin it to the top