During a recent storm the plastic company logo fell off the outside of the office building of Fleesam Ltd. and broke cleanly into the two pieces shown below: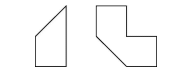 A junior clerk took the two pieces to a signmaker to show what had happened, and asked him to make a new logo. Unfortunately after the clerk had left, the signmaker realised that he didn't know how the two pieces had fitted together originally.
Which one of the following could not be Fleesam's logo?