15 runners took part in this year's Marathon of Marathons (eight marathon races on consecutive days). Points were awarded to the first seven to finish in each race, as follows: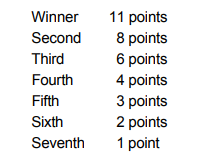 All 15 runners finished in the first three at least once, but only Philip, who was the overall winner with a total of 61 points, finished in the first three every time.
How many of the eight races did Philip win?
A. 2
B. 3
C. 5
D. 4
E. 1