Hey guys;
Today's IMAT gave us a very bad question, because they have defined O2 and N2 as elements - which are not.
Let's look at some reliable source:


And: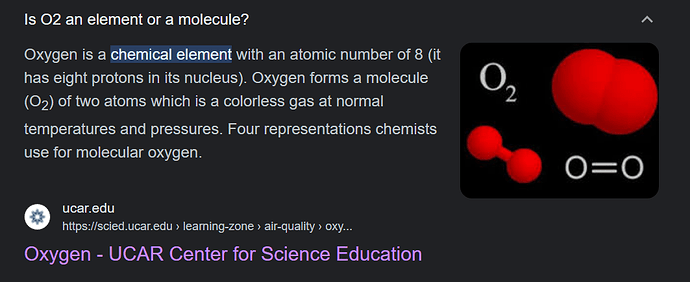 It is important to highlight that a diatomic element is "an element which is found as two bonded atoms in its most natural occurring form". It is not a definition of O2 and N2 as elements, because the latter is wrong. Rather a definition of the molecular formula of that element.
If any of you find an academic article which directly point out that O2 and N2, or for this sake any other multiatomic elements can be in their molecular form called just "elements", I will be really surprised, since I have in my whole career of biomedical science never heard or read in any seminar or academic journal that O2, N2, O3, S8, P5, … someone says " O2 elements, N2 elements, O3 elements …". They are made of elements, but they are not elements, but molecules - which have different chemical and physical properties.
This discussion requires knowledge on how to search in academic journals and which sources academic journals really are.