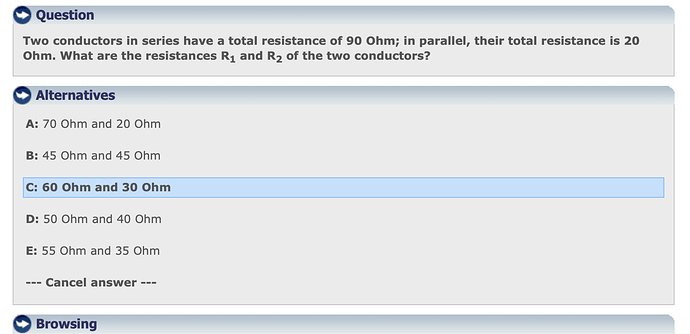 Two conductors in series have a total resistance of 90 Ohm; in parallel, their total resistance is 20 Ohm. What are the resistances R1 and R2 of the two conductors?
A: 70 Ohm and 20 Ohm
B: 45 Ohm and 45 Ohm
C: 60 Ohm and 30 Ohm
D: 50 Ohm and 40 Ohm
E: 55 Ohm and 35 Ohm
This transcription was added by Ari Horesh from EnterMedSchool to provide accessibility for those with disabilities. Please note that the text may contain inaccuracies or errors and may not fully reflect the context or meaning of the original forum post.